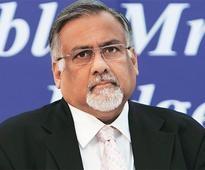 Attorney General G E Vahanwati on Tuesday found himself on the backfoot in the Supreme Court while reiterating his stand of not knowing the contents of the Central Bureau of Investigation probe report in coal scam in the wake of allegations of his colleague Harin Raval that he had perused and settled the draft report.
"Since a lot of things have been said and the letter (of ASG Raval) has been leaked yesterday. I am pained. I never had the copy of the status report. I did not have the copy even today," the AG submitted before a bench headed by Justice R M Lodha.
Referring to the letter written to him by ASG Raval, Vahanvati said, "Somebody is taking my name. I am not taking the name of that person. Today, I don't have the copy. I only said I will defend the Centre to the best of my ability."
Contrary to claims made by the ASG, who put in his papers as the law officer this evening, Vahanvati said that he was not aware of the contents of the draft report, shared with the law minister, the Prime Minister's Office and the coal ministry.
Earlier, Raval had shot off a letter to Vahanvati alleging that he has been made a "scapegoat" in the matter.
"You (AG) will also kindly recall that on March 6, 2013, while I was in court, I received a message from your end, asking me to see the Law Minister at 12.30 with the status report...only one of status report of one of the preliminary inquiries was shown to the law minister and was perused by him as well as by you. Certain suggestions were made, including by you, to the CBI, some of which were accepted. No suggestions emanated from me.
"In compliance of the above, the CBI officials brought the drafts which were perused and settled by you Sir. I was present in your residential office" Raval said in his letter
"On account of your (AG) statement, I felt embarrassed and was forced to take a stand, in Court, consistent with your submission made as Attorney General for India, that the contents of the Status Report were not known to you and that they were not shared with the Government," the leaked letter said, adding "I have a feeling that I am sought to be made scapegoat but I am confident that truth will always prevail."