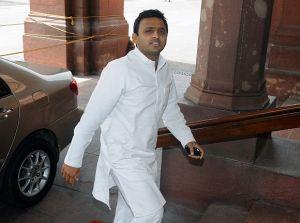 Uttar Pradesh Chief Minister Akhilesh Yadav returned to Lucknow on Monday night after a 6-day trip to an unknown destination with speculation rife that the CM was watching the FIFA World Cup in Brazil.
Why the 41-year-old chief minister, known to be a football enthusiast, kept his itinerary a closely guarded secret is a mystery.
He left Lucknow on July 8 evening for New Delhi from where he is learnt to have flown out of the country later in the night. The chief minister's secretariat continued to feign ignorance about his destination.
When a section of the media put out stories about him having flown to Canada, the official machinery promptly issued a denial. Another rumour was afloat about the chief minister having gone to Australia and New Zealand, but that too was refuted.
The initial word from the CM's office was that he would be away for three days. But when he did not return as per the declared schedule, the official machinery admitted that he was on a foreign trip. However, the mention of Brazil was still avoided. Rather it was emphasised that the chief minister was nowhere close to Brazil. "United Kingdom" was indicated as his destination though there was still no official confirmation.
Eventually, when Akhilesh did not turn up by the weekend, speculation about him watching the FIFA World Cup final on Sunday night gained ground.
A top official in the CM's office went to the extent of questioning the media's curiosity about the CM's journey. "Why should it be of interest to the media to know where the chief minister has gone? He is entitled to his privacy," said an official responding to media reports.