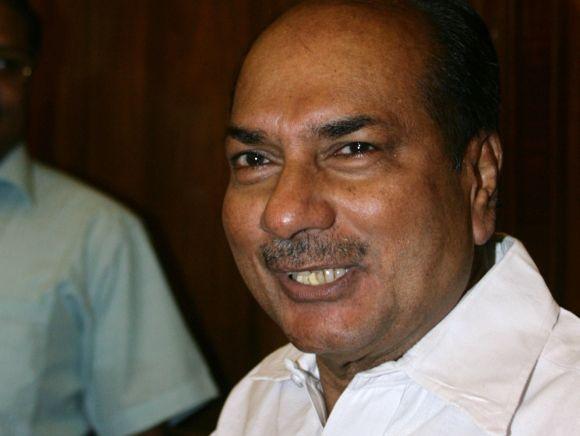 Notwithstanding Pakistan's denials, Defence Minister A K Antony on Wednesday said there is 'clear evidence; of involvement of its troops behind the killing of two Indian soldiers whose bodies were also mutilated, an action described as 'inhuman'.
"That it happened there is a reality. There is clear evidence to it. It is highly provocative action on the part of the Pakistan army," Antony told reporters in Kolkata when his response was sought to Pakistan's denial of its troops being involved in Tuesday's attack across the Line of Control in Jammu and Kashmir.
"The way they treated the dead bodies of the Indian soldiers is inhuman," he added. One soldier was beheaded. Earlier in the day, Antony said the attack by Pakistani troops was 'highly provocative'.
"The Pakistan army's action is highly provocative. The way they treated the dead bodies of Indian soldiers is inhuman...We are closely following the situation," Antony told mediapersons in Delhi.
Pakistan "strongly rejects the Indian allegation of an attack across the LoC on its military patrol in which two Indian soldiers were claimed to have been killed. These are baseless and unfounded allegations," a statement issued by its high commission in New Delhi said.
Pakistani regular soldiers crossed into Indian territory in Poonch sector and ambushed an Indian patrol killing two soldiers, one of whom was decapitated, according to a defence ministry statement on Tuesday.
Other sources said the heads of both the Indian soldiers -- Lance Naiks, Hemraj and Sudhakar Singh -- have been chopped off and one was taken away by Pakistani intruders.
The brutal nature of the attack was a chilling reminder of the ghastly attack on Captain 1Saurabh Kalia and his team by Pakistani troops in Kaksar sector of Kargil during the 1999 conflict.
The attack took place along the LoC in Poonch district when Pakistanis came about 100 metres into Indian territory and assaulted the patrol party.
Besides killing two, they also injured two other soldiers and took away their weapons and other belongings.