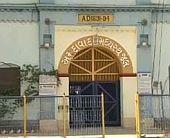 Investigations into the discovery of an 18-foot long tunnel inside the Sabarmati central jail in Gujarat have shown that the escape route was allegedly designed by a suspect named Hafiz Hussain Mulla alias Adnan from Karnataka.
Investigators believe that owing to his experience in civil engineering, Adnan could have contributed towards drawing up the tunnel schematics.

'They have used the gardening tools for this tunnel. They were extremely discreet in their operation, which was on for 6 months,' the investigators told rediff.com.


The entire operation was undertaken by 14 persons in the Sabarmati jail and all of them are accused in various blast cases.


Adnan, a third-year civil engineering student, was arrested in Karnataka in 2008 for his alleged role in terrorist activities.

Adnan, according to police, was a self-proclaimed leader of the Students Islamic Movement of India and hailed from Bijapur in North Karnataka.

His name was first revealed by Riazuddin Nasir, another operative from Hyderabad. The police contended that Nasir, Adnan and another operative, Asadullah had plotted to carry out terror strikes in Karnataka and Goa. Nasir was assigned the job of stealing vehicles and lining them up in a beach at Goa before carrying out a series of explosions.

They had also plotted to carry out strikes in Bengaluru, the police said. However, Nasir and Adnan were picked up and later sent to the Sabarmati jail as the police suspected that they had a role to play in the Gujarat blasts and also the murder of former state home minister Haren Pandya.


Adnan, according to the investigations, was the alleged mastermind of all these plots.

The police had, in fact, attributed the rise of the SIMI in Karnataka and Gujarat following its ban to Adnan and software engineer-cum-terror suspect Yahya Kamakutty.

In 2007, Adnan had organised a crucial meet in Hubli, Karnataka, which was attended by 30 SIMI members from Madhya Pradesh, Gujarat, Uttar Pradesh, Karnataka and Kerala.

The Intelligence Bureau believes that it was this meeting, which led to the strengthening of the Indian Mujahideen (a branch of the radical SIMI).