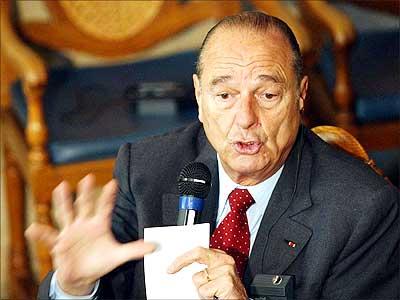 French President Jacques Chirac who gave a controversial interview to The New York Times, The International Herald Tribune and Le Nouvel Observateur in which he spoke of Iran's nuclear programme, withdrew his comments the very next day.
In the interview, the French President reportedly said that what worries the West is not Iran's nuclear energy programme but the fact that it was determined to enrich uranium.
He even went to the extent of saying that even if Iran had a bomb or two, it would make no difference.
'Where will it drop it, this bomb? On Israel? It would not have gone 200 meters into the atmosphere before Tehran would be razed to the ground,' he said in the interview.
He goes on to say that the danger of Iran having the bomb could lead other countries in the neighbourhood to also go in for a nuclear programme.
'It is really very tempting for other countries in the region that have large financial resources, to say: 'Well, we too, we're going to do it. We're going to help out others to do it.' Why wouldn't Saudi Arabia do it? Why wouldn't it help Egypt to do so as well? That is the danger,' he said in the interview.
The French President's statements go against stated French policy and what he has said in the past.
However, soon after giving the interview, Chirac had second thoughts.
Chirac summoned the journalists involved to the Élysée Palace again to retract many of the things he said.
Chirac said he had spoken casually the day before because he had believed he was talking about Iran off the record. He also admitted he had made a mistake.
'It is I who was wrong and I do not want to contest it,' he said. 'I should have paid better attention to what I was saying and understood that perhaps I was on the record.'
Photograph: Martyn Hayhow/AFP/Getty Images