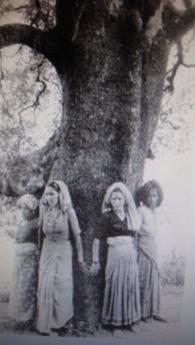 An organisation of Chipko activists of Tuesday demanded the Bharat Ratna for Gaura Devi, a tribal woman from Uttarakhand acclaimed for her pioneering role in the unique movement of the 1970s for environmental protection.
The Chipko movement was launched in the mountainous region of Uttarakhand, which was then part of Uttar Pradesh.
In a letter written to Prime Minister Manmohan Singh on the eve of World Environment Day, Chipko Movement Memorial Foundation Convenor Ramraj Badoni said conferring the Bharat Ratna posthumously on Gaura Devi will be a fitting tribute to the woman who led a group of women of her village in the movement.
Devi and her associates clung to trees as a symbolic gesture to save them from being felled on March 26, 1974, Badoni said.
Gaura Devi's novel method of Van Satyagraha hogged international headlines, he added.
Drawing parallels between Devi and Wangari Mathai of Kenya, who launched the Green Belt movement in Africa in 1977 to stop progressive degradation of forests, Badoni said just like Mathai was conferred the Nobel Prize, the country's highest civilian honour should be conferred on Devi.
Badoni also demanded freedom fighter status for those who participated in the Chipko movement at the grassroot level.
He said many of the agitators suffered police atrocities and had to go jail, to save the forests during the agitation, but they seem to have been forgotten.
Badoni said such agitators should be identified and given the same facilities as enjoyed by freedom fighters.