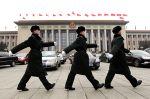 As it modernises its 2.3 million strong military with hefty defence spending, China is offering "well-educated" youth offers of preferential policies, ranging from promotions and access to advanced education to join its People's Liberation Army (PLA).
Young people with college degrees will receive preferential treatment during this year's recruitment period, which begins from on Thursday, a recruitment spokesman from the Ministry of National Defence said.        
College students will be receive loans or tuition subsidies if they join the military, as well as get help in obtaining employment and further education after leaving the military, state-run Xinhua news agency quoted him as saying.
The PLA has also opened the online recruitment considering that most of the Chinese graduates are computer literate.
The Chinese military started recruiting college graduates in 2001.
As of 2009 the PLA has more than 1.30 lakh graduates in its military ranks.
To help the military recruit more students, maximum age to join the military was raised to 24 years.
To attract more young applicants, China relaxed restrictions regarding the height, weight and appearance of recruits in 2011.
China, the largest military spender after US, has hiked its defence budget to USD 100 billion this year. It also has USD 110 billion budget for internal security.
Besides launching its first aircraft carrier, the PLA has advanced missiles which according to claims could reach targets up to 14,000 km.
China also has a partially operationalised its own Global Positioning System, (GPS) to rival the US system.