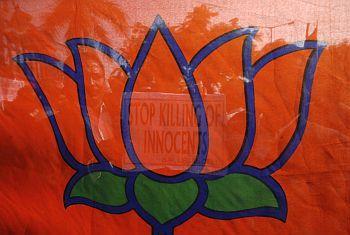 Peeved over denial of tickets after the ruling Bharatiya Janata Party announced its first list of candidates for Chhattisgarh assembly polls, a section of leaders have criticised the party alleging "unfair" distribution with supporters of disgruntled aspirants also staging protests.
About 10 sitting MLAs were denied tickets by BJP, giving a chance to as many as 20 new faces in its first list of 67 candidates, for the two-phased polls next month.
The 'leftout' MLAs have expressed anguish over the distribution of tickets and also termed it as "unfair".
Besides, those ticket seekers who had lost previous elections by only a little margin, also seemed to be disappointed.
Party's state unit vice president Sachchidanand Upasane who was denied ticket from Raipur city north constituency accused the party of favouring a businessman by ignoring dedicated party workers.
Upasane had lost this seat in the previous election to Congress' Kuldeep Singh Juneja by a small margin of 1436 votes and was expecting another opportunity this time.
"I have been working at ground level in this constituency from past several years. Senior leaders overlooked my dedication and gave ticket to a trader who rarely meets party workers here," Upasane alleged.
"Though I had lost previous election but many other candidates who have lost previous election with a big margin were given tickets. This is unfair," he said.
He further added that he may contest as an independent on the demand of his supporters.
Scores of Upasane's supporters had gathered at the party's state headquarters on Sunday evening after the announcement and had raised slogans against the senior party leaders accusing them of corruption in ticket distribution. The protest continued on Monday also.
Srichand Sundrani, a BJP leader from the Sindhi community, has been given ticket from Raipur city North seat instead of Upasane.