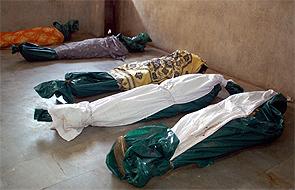 Opposing the setting up of anti-terror body National Counter Terrorism Centre in its present form, Chhattisgarh Chief Minister Raman Singh on Wednesday said it violates the federal structure of the Constitution.
The chief minister of the Bharatiya Janata Party-ruled state said that the NCTC should be ratified by Parliament to make it responsible and answerable to people.
Addressing a day-long conference of chief ministers on internal security, Singh said the NCTC should not be given powers similar to that envisaged in the National Investigation Agency Act, among others, by allowing it to probe terror related cases without the state's consent.
"We are opposed to the NCTC in its present state. If the NCTC comes into existence, it should respect the federal structure of our Constitution. The participation of states in the NCTC should not get reflected only on paper. To make it effective and useful, the state's role should be ratified by Parliament. In the present proposed NCTC, an executive order may lead to duplication at the state level," he said.
Singh stressed that his government is not thinking contrary to national consensus on the subject -- that there should be coordination in gathering intelligence so that the benefit of the state's experience and Centre's expertise is merged.
"We hope that NCTC will not be entrusted with powers that have not been given under the NIA Act 2008 and the Unlawful Activities Prevention Act 1967. We had also opposed the NCTC because it was proposed to be a body under the Intelligence Bureau. This would have affected the working of the Intelligence Bureau and led to public scrutiny of several intelligence matters," the chief minister said.
Singh said he was happy to note that the new NCTC proposes to bring it directly under the aegis of the home ministry.
"But there are still some issues with the proposed structure and most important is that it should be ratified by Parliament so that the NCTC becomes responsible and answerable to people," he said.
Terming Naxalism as the biggest threat to internal security, Singh called for a single national policy to tackle the menace.
"For long, people believed that Naxalism was somehow different from terrorism but even they have come around to our belief that they are two sides of the same coin. To tackle Naxalism we need to overhaul our outlook on all fronts whether it is industrial, infrastructure development, our own thought process or the reaction Naxalism provokes in people," he said.
In a veiled attack on defenders of Maoism, he termed the sympathy given to Naxals as a "cruel joke".
"Naxals have attacked schools, marriage processions, hospitals, ration shops and other public places and have killed babies, women and small children. They have even used villagers as human shields to make good their escape. To call them defenders of the rights of anyone in our society would only be a cruel joke," Singh said.
Citing the brutal Naxal attack on May 25 in Bastar region, he asked all concerned not to politicise the matter.
"Given the background, it would be pertinent that no one says anything that leads to demoralisation of the local people who are on the ground facing the Naxal bullet. No one should say anything that discourages our people. I would like to state unequivocally that Chhattisgarh is fighting the biggest battle for internal security in the entire nation today," he said.
Senior Congress leader Mahendra Karma, an architect of Salwa Judum (anti-Naxal vigilante group), State Pradesh Congress Chief Nand Kumar Patel and his son Dinesh were killed and 27 others were injured in the Naxal attack.
The battles being fought in Sukma, Dantewada, Bijapur, Bastar and Naraynapur are not Chhattisgarh's alone.
"We are fighting those whose ultimate aim is to capture Delhi and the Red Fort through violence and power of the gun. It is a battle of democratic forces against perpetrators of violence," the CM said.
Singh outlined various pro-people measures including implementation of Chhattisgarh's Food Security Act, which ensures that 42 lakh families get at least 35 kg rice at highly subsidised rates, and imparting skills to tribal youths to ensure they are safeguarded from Naxal violence and influence.
"Chhattisgarh is also the first state in the country which increased the number of days of work guarantee under the Mahatma Gandhi National Rural Employment Guarantee Act from 100 days to 150 days," he said.
Singh said his government has brought children to schools from remote areas of the state by providing them with free books, uniforms and mid-day meal. However, the Naxals deploy detonators in these schools and make these children hold weapons, he claimed.
"Pictures of such children holding guns and dressed in Naxal uniforms are sent to harm the image of the villagers during retaliation. It is sad that so-called pseudo-thinkers, who do not even have the guts to cross rivers, valleys and mountains, are in total oblivion of the state of these children," the CM said.
Singh said even after so many threatening calls and explosions, "we have not stopped building residential schools and ashrams or hostels in place of buildings destroyed by the Naxals".
He also called for a national policy to squeeze the source of funding to Naxals.
"Naxals and Maoists thrive on extortion money which is used to buy weapons and explosives. I believe this may be the right time to think about how to squeeze their sources," he said, adding that strengthening of Naxal-hit regions in the country will lead to development of the entire nation.
Image: Bodies of policemen, who were killed in an ambush, are seen in a hospital morgue in Raipur, Chhattisgarh | Photograph: Reuters