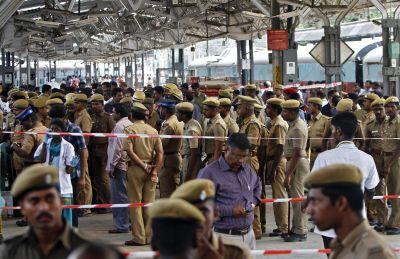 Investigations into Thursday's blasts at Chennai Central railways station suggest the involvement to two persons. One of them used a fake name, Raman, to book the tickets.
The police say he is not an Indian national and the blast was not targeted at any political figure.
The police suspect the involvement of a Bangladeshi national and a Sri Lankan.
Both the Intelligence Bureau and police officials rule out that the train had more explosives that were being transported to some destination. The intent was to carry out a blast at a railway station and cause panic while making an announcement that a strike could occur any time.
The police say the bomb seems to have been packed in a pipe. Pipe bombs have been used regularly in Tamil Nadu. They were used in the blast before BJP leader L K Advani's rally and in the Coimbatore blast.
Image: Policemen and security officials stand near a passenger train in which two explosions occurred, at the railway station in the southern Indian city of Chennai

Photograph: Babu/Reuters