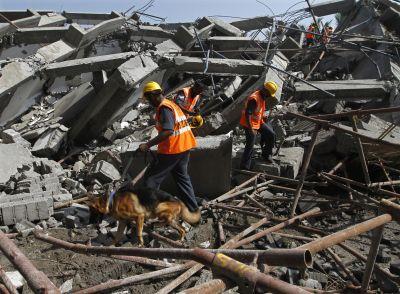 The Tamil Nadu government on Thursday set up an inquiry commission to probe the collapse of a 11-storey under-construction residential building in Chennai in which the death toll has shot up to 60.
Tamil Nadu Chief Minister J Jayalalithaa announced that the one-man commission headed by Justice (Retd) R Reghupathy will probe the circumstances leading to the collapse of the building.
"The commission will find out whose ignorant attitude resulted in such a mishap that left many workers dead and others injured and decide on (fixing) those responsible for it," she said.
"As of now, 60 are dead and out of this 40 are men and 20 women," K Kulandaisamy, director, public health told PTI.
Stating that still there was a good "probability" of survivors, the official said "past experience in such situations elsewhere suggests the probability of survivors," though Thursday is the sixth day of rescue work.
On the number of persons feared to be still trapped, he declined to specify and reiterated that the authorities were hopeful of pulling out all those trapped alive. "We hope that the rescue work will be fully completed by evening tomorrow (Friday)," Deputy Inspector General, National Disaster Response Force, S P Selvan said.
Twenty seven persons, including eight women, were rescued alive till July one after the June 28 mishap at Porur.
A revenue official engaged in rescue work indicated, "It is feared there could still be 20-25 more persons trapped in the debris."
Image: Rescue operations on at the site of the building crash in Chennai