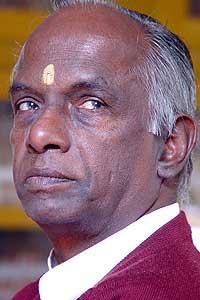 Former Rashtriya Swayamsevak Sangh ideologue Kodipakkam Neelamegacharya Govindacharya, once part of the BJP's inner circle as its general secretary but who has been charting a lone course for over a decade, has just launched the Save Democracy Front.

His agenda: To offer an alternative to the "pro-West, pro-rich and corrupt practices of major political parties".
Govindacharya has also managed to rope in people like Santhosh Hegde, Arif Mohammed Khan, Jayaprakash Narayan of the Lok Satta Party and others to support his endeavour.
Indian politics is full of instances where those who try to plow a lonely furrow end up by themselves, never in a position to challenge the established political system, posing at best a nuisance value. Will Govindacharya be reduced to another footnote in the history of Indian democracy, or does he have a concrete game-plan in mind to achieve his goal? Does electoral politics feature on his agenda -- even though it will put him in direct contest with the BJP?
Find out from Govindacharya himself as he appears on the Rediff Chat on July 31, Wednesday, at 12 noon IST, to answer these and other questions. Be there!
Chat timings may change owing to circumstances beyond our control