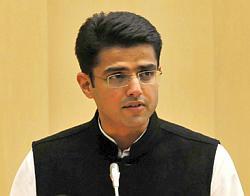 Admitting that the party was at crossroads and there were shortcomings both in the organisation and the United Progressive Alliance government, former Union Minister Sachin Pilot on Monday said "changes will happen soon" to put in place a 21st-century Congress.
Refusing to blame party vice-president Rahul Gandhi for the poll debacle, the young leader said the party vice president "should not be seen in isolation" and that he would focus on states where the Congress had done disastrously in the Lok Sabha elections.
Pilot also said that the statement of senior leader A K Antony on the issue of secularism would be discussed "threadbare" internally. "You don't take knee jerk reactions when you take decisions. We are at crossroads, let's be clear about it. The Congress is down to 44 members of Parliament and this is a huge setback for us and never before it has come to this low level.
"Obviously there were shortcomings in the organisation and in the (previous) government. That is why the numbers are so poor. We are not living in denial, we have accepted the defeat with humility," Pilot told PTI in an interview.
He was replying to a question about why no changes have been effected in the party despite the debacle. Underlining that Congress has a "historical political responsibility", he said the party will undergo changes and Sonia Gandhi will effect those changes after having discussions and feedback from the whole country. "It is not about sitting one day and deciding to overhaul the structure. Changes will happen, accountability will be established, the road ahead will be charted out and the Congress party will present itself in the 21st century avatar and reach out to regain the faith and confidence," he said.
Asked if there is scope for improvement in Rahul's leadership, he said, "Let us not look at him in isolation because he belongs to the Congress party. I also belong to the Congress party. The best thing that I can do is win elections.Of course, we did not do right things and did not properly communicate but this whole fact finding issue of why we lost etc, this is done at a structured level in the Congress."
Pilot said Rahul will continue to look after the party and the organisation in states where the Congress has done disastrously in the elections. "That will be the focus of his attention. He will continue to work as hard as before," he said.
Arguing that politics is never static and challenges always come up, Pilot said the party has not lost its courage and the ability to fight. "Changes will happen soon. You will see the Congress party emerge out of this defeat much stronger, much more robust and taking on our political opponents in the best way we can," he said.
Talking about statements from certain Congress leaders against the party leadership, he said that "anybody who has goodness for the Congress party at the heart will suggest, ill point out, will highlight the shortcomings and ask for changes in the party platform.
"If you hold a press conference and you use language to get media coverage, then how much of a well-wisher are you of Congress? I have met Sonia and Rahul, and told them exactly what I wanted to say but to make my view go on air, television, on newsprint then that is not good.
"If people are doing that then they are not well-wishers (of the Congress) at all and you know they are doing no favours to the Congress. There has to be a discipline in the party....There is no question of not being heard but to make press statements and give bite on television and use the kind of language that is unbecoming of a good politician, there you break the line," he said.
Pilot said that that not all criticism or suggestion can be termed as that.
"Let's qualify the word 'dissent'. It means that you are not happy with a set up and you want it out. That is dissent but raising the voice against certain aspects of our party, certain shortcomings, it is not dissent. It is discussion and it will be awful to have just one way of thinking in the party, then you will lose your agility to be a political party."
He spoke about collective responsibility, saying the party had lost three elections in a row -– 1996, 1998, 1999."Subsequently what happened? Mrs Gandhi became the Congress president and for the first time in 30-odd years, the Congress won two consecutive elections and the second one with greater majority than the first one. So while we take
collective responsibility and credit for those two wins, let's also take collective responsibility for losing this election," he said. Crediting the Rashtriya Swayamsevak Sangh for the Bharatiya Janata Party's victory in the Lok Sabha elections, Pilot said he was not sure for how long can the prime minister withstand 'Nagpur pressure' and wondered how 'big and large' the Sangh's "stick" will be for Narendra Modi.
Expressing concern at the BJP's slogan of a Congress-free India, he said any person who says Nagpur, where the RSS is headquartered, does not have any control over the government, is not attached to reality.
"We have never said BJP-free India or Janta Dal-free India. Those extreme positions are reflective of the ideologies that govern this government. If someone says to me that Nagpur has no control over the National Democratic Alliance that person is not attached to the reality," he said.
Pilot added, "You will see these issues coming up, the VHP, the RSS, the Bajrang Dal and statements coming from ministers in Goa about what women should wear and not wear, infringing upon the liberties and freedom of the citizens of this country".
Noting that prime minister has promised that the constitution is the only book he follows, Pilot said, "But I don't know if the stick from Nagpur, how big and large that might be for him and how long he can hold that pressure. The RSS has an agenda and it is also true that this election victory, how much ever anyone has denied, a substantial portion of that credit must go to the RSS".
Talking about veteran BJP leader L K Advani's recent comments about Modi's success being a triple century, he said one cannot forget his reactions when Modi was made the party's prime ministerial candidate.
"How he resigned from all positions, the kind of infighting that went on within the BJP till the RSS forced them to fall in line. These fault lines and fissures are bound to surface at some other time later on," he said, adding, that a "strong mandate does not give you the freedom to do as you please and that you have no regard for sentiments of the people".