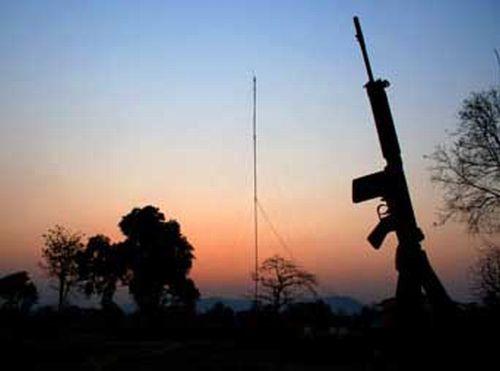 Naxals allegedly set on fire a conveyor belt of National Mineral Development Corporation in Chhattisgarh's Dantewada district in the wee hours on Wednesday causing production disturbance to the tune of 40,000 tonnes.
According to the Dantewada police, a large number of ultras stormed the NMDC's Bacheli iron ore mines at around 2.30 AM and set on fire over about 80 metres of conveyor belt, bringing a halt to the mining operations, they said.
NMDC sources said the attackers took the advantage of the situation as all the units were closed on Tuesday on account of Vishwakarma Puja and burnt the conveyor belt no. 29 in Bacheli. "Soon after getting news of the incident, several fire tenders and Central Industrial Security Force personnel were pressed into service to douse the blaze and very soon everything was under control," Dantewada Superintendent of Police Narendra Khare said.
"The loss caused due to the fire is yet to be ascertained," he said, adding that security personnel have launched a search to nab the attackers. According to a NMDC official, the damage to the belt would affect the transportation of iron ore from the region for a couple of days, resulting in losses worth several crores to the public sector undertaking.
"The NMDC shifts nearly 20,000 tonnes of iron ore per day through that belt. It would take two days to set that right. So the loss of production could be around 40,000 tonnes which will be made up next week," official sources told PTI, while hinting that operations could be resumed partially on Friday.
According to the latest annual report of the state-owned miner, the major risk it is facing is the Maoists' attacks in and around its project at Bailadila on and off. "Such attacks have made some impact on production which has affected the movement of ore from the Bailadila sector. The company is in contact with the government agencies
for support and protection of its people and installations. The initiatives taken by the government of Chhattisgarh and the central government are expected to find a solution to the risk at the earliest," NMDC said in its annual report.
Last year, seven persons, including six CISF jawans, were killed in an ambush by naxals in Dantewada district. The slain security personnel were on patrol duty guarding the NMDC's facility in Kirandul when armed naxals ambushed them with heavy gunfire.