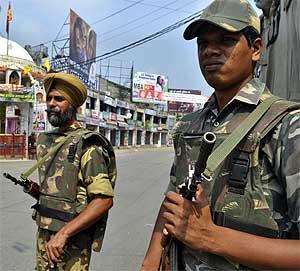 Against the backdrop of riots in Muzzafarnagar, Minorities Affairs Minister K Rahman Khan on Wednesday said the Centre would try to build consensus among political parties to get the Anti-riot Bill passed in Parliament.
"The government would try to build a consensus among political parties on the Bill. The government wants to pass the Bill (in Parliament) with the consent of political parties," Khan told reporters in Muzaffarnagar.
He said the issue was also discussed in the National Integration Council meeting in Delhi recently. The Communal Violence (Prevention, Control and Rehabilitation of Victims) Bill, was first introduced in Rajya Sabha in 2005, but had drawn flak from several parties.
The Bill lays down measures for prevention of acts leading to communal violence, enhances quantum of punishment and makes provisions for speedy investigation and trial of offences through special courts.
It also proposes institutional arrangements for relief and rehabilitation measures for the victims, besides granting special powers to the Centre in certain cases.
Khan said his Ministry would give a relief package to riot-affected victims, which would include houses Indira Awas Yojna and loan without interest up to Rs five lakh for their rehabilitation.
The minister declined to comment on who was responsible for the riots in Muzaffarnagar, saying judicial inquiry has been initiated in the matter. On demand for a Central Bureau of Investigation inquiry into the riots, he said if the state government seeks it, the Centre will take action.
"Law and order is a state subject, we (the Centre) cannot intervene directly," he said. The riots in Muzaffarnagar and adjoining areas earlier this month claimed 49 lives and displaces thousands of people.