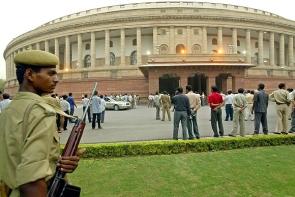 The Centre on Friday ruled out sine die adjournment of Parliament before the last day of the budget session and made a veiled attack on main opposition Bharatiya Janata Party for the disruption of House proceedings.
At the same time, the government also expressed its determination to go ahead with key bills including the Food Security Bill and the Land Acquisition Bill.
"Most political parties whom I talk to want the House to function. Probably, it is only one political party which is creating this disturbance, denying the democratic political system to run, denying other political parties -- those who are not even our allies or supporters -- an opportunity to discuss and debate issues in the House," Parliamentary Affairs Minister Kamal Nath said in an apparent reference to BJP.
"It will be my effort to see that the important legislation is passed before the end of the session," he told reporters outside Parliament after Lok Sabha adjourned for the day in the wake of an uproar over the BJP's demand for the prime minister's resignation on coal scam.
Nath responded in the negative when asked whether Parliament will be adjourned sine die before the last day of the budget session on May 10.
The Congress has often dubbed the Food and the Land Bills as "game-changers" as these could help the party in elections.
The much-hyped National Food Security Bill was moved in Lok Sabha on Thursday, but failed to pass the measure because of din in the House. The Food Bill seeks to ensure that people get adequate quantity of quality food at affordable prices.
"All issues and all statements being made outside the House and in TV studios can be made in the House. So, I do not understand why these disturbances take place. I do hope that some more discussion will take place and we will be able to find some convergence," Nath said.
The Land Acquisition, Rehabilitation and Resettlement Bill piloted by Rural Development Minister Jairam Ramesh is also on the legislative agenda of Lok Sabha.
The Bill has provisions for a humane and transparent process to acquire land for industrialisation, infrastructure development and urbanisation.