Sarika Jain lost her husband in the 13/7 Mumbai bomb blast in 2011. With two small children and ailing in-laws, Sarika is desperate for a job to sustain her family. Rediff.com's Prasanna D Zore met the family.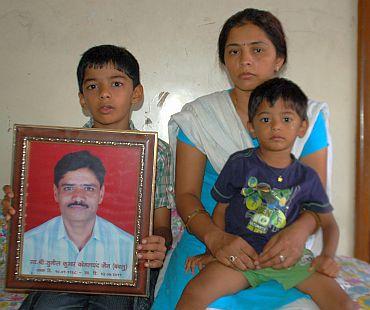 With two sons, Samyat, 10, and Sarvagya, 3, paralysed in-laws at hometown Panna in Madhya Pradesh, younger brother-in-law Satishkumar, Sarika Jain, the widow of Sunil Kumar Jain, who lost his life near Opera House a year ago in the triple bomb blasts in Mumbai, is desperately looking out for a job to help sustain her family.
I scored 62 per cent in MA, Economics, from Rewa University," Sarika Jain exclaims proudly trying to hide her sorrow, which was so visible just a few minutes ago. That sort of sums up the life of this 37-year-old mother of two who is still trying to fathom what her husband's cruel death means for her and her family.
But as you speak to her she intersperses her responses with "I desperately need a job. Can you please help?"
"I scored 62 per cent in MA, Economics, from Rewa University," she repeats herself, this time helplessly, making it evident how much a job at this juncture in her life would mean to her.
Politicians (after her husband's death) came and went. Ditto their assurances, their numerous platitudes that they will find a good job for me," Sarika says. If she is angry, sad, dejected at the tamasha that followed (lining up of politicians and local leaders to offer condolence and gain some brownie points with the local electorate) Sunil Kumar's demise, she is not showing.
"I don't want to discuss why politicians came here. I don't understand why terrorists kill people," she says about the beeline politicians of all hues made after her husband's death.
Her voice is cold and biting.
Perhaps it is the trauma of being informed about her husband's death two days after his actual death on the day of the bomb blast.
Perhaps it is the trauma of waiting for good news for two full days completely oblivious that her husband's body lay in some morgue after having breathed his last at Harkisandas Hospital.
Perhaps it is the trauma of telling Samyat that his father had gone out for some work and would be back in a couple of days. Perhaps… one could only surmise the reasons behind that coldness in her voice.
"I'm looking out for a job that is close to my house," Sarika pleads. "I don't want to ignore my children while I work. I am looking out for a job as an accountant in any school around Dahisar, Borivali or Kandivali (all north Mumbai suburbs close to Jains' residence in Dahisar).
Sarika says that the money that came as compensation from the state government (Rs 5 lakh) and from the central government (Rs 2 lakh) were helpful but not enough to take care of her sons' education. So was the Rs 7,000 that she got for six months from the Tatas after Sunil Kumar's death.
"That is the reason I am looking out for a job," she adds to express her desperation.
Sunil Kumar, who earned his spurs as a diamond broker in the hub near Opera House, was 41, when heavy metal and nails ripped open his spine and nape of the neck at the blast site. "He was on his way to meet an associate along with a friend when the incident happened, says Satish Kumar Jain, Sunil's younger brother who has moved out of Panna, the Jains' hometown in Madhya Pradesh, ever since his brother died to be with the inconsolable family.
After a year, Satish Kumar is still trying to earn the trust of his brother's associates as he comes to terms with the tricks of the diamond-broking trade. "I am new into this trade. Am working my brothers' contacts to make a good base so that the earnings are enough to take care of my paralysed parents and brother's children," says Satish Kumar.
Sunil Kumar's father suffered a brain haemorrhage a few days after his death. His mother too lay paralysed after her son's death, informs Satish Kumar.
Eldest of four siblings -- three brothers and a sister -- Sunil Kumar left home when he was in his early 20s. Not too educated he knew Bombay could offer some succour to his family's poverty. The city of dreams proved Sunil Kumar right. Within a few years he made a mark for himself in the diamond-broking business.
"It is very difficult to find a gentle-hearted man like him," Sarika says about her late husband. "He'd give money not only to his family but any associate who came to him for help. He just could not refuse help to anybody needy," she adds managing a smile, fondly remembering her late husband.
"Can't still imagine this has happened to me," she speaks in halting words, trying to express her shock at the absence of somebody with whom she was married eleven years ago.
"I could never think he would not come back in the evening after stepping out for work," she breaks down.
In fact, on the day of the blast Sarika pleaded with her husband to take leave as it had rained heavily the previous two days and also poured on the morning of July 13, 2011. "Ghar baithkar main kya karunga. Kaam per jaoonga toh do paise ghar aayenge (What better could I do staying home? If I go out to work I will be able to earn some money for the family," Sunil Kumar had told his wife unknown of the fate that would befall him that balmy evening.
When asked how her eldest son is coping with the absence of his father, Sarika says "Bhagwan kisike saath aisa na kare. Kisi ke bhi bachche bina baap ke na pale-bade (Let such sorrow befall on nobody. May no children have to grow up without their father," she barely manages.
Samyat, Sarvagya and their two cousins play with a ball as Satish Kumar gently asks them to be quiet. The children happily ignore him.
Photograph: Sarika Jain with her children Samyat and Sarvagya 
Credit: Prasanna D Zore