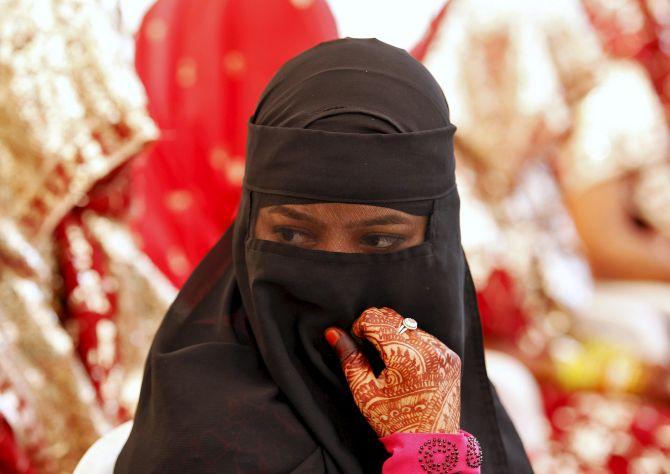 The All India Muslim Personal Law Board on Wednesday told the Supreme Court that marriage in the Muslim community is a contract and in order to protect their interests, they can put special emphasis on certain clauses in nikahnama.
The board further said that a Muslim woman had every right to pronounce triple talaq in all forms, and also ask for very high mehr amount in case of talaq.
This came in response to when Chief Justice of India Jagdish Singh Khehar asked AIMPLB counsel Kapil Sibal if it is possible to give bride the right to not accept instant triple talaq.
The board also showed the court a resolution passed on April 14 2017 which stated triple talaq as a sin and that the community should boycott the person doing such an act.
The apex court also wanted to know from the AIMPLB if it is possible for the board whether their (SC) advisory will be followed by the Qazis at the ground level.
One of the board's lawyers Yousuf Hathim Muchala told the top court that the advisory of AIMPLB is not mandatory for all Qazis to follow. Muchala, however, made it clear that the board accepts the suggestions in all humility and will look at it.
The Supreme Court had asked the All India Muslim Personal Law Board whether a woman can be given an option of saying 'no' to triple talaq at the time of execution of nikahnama (Islamic marriage contract).
The bench also said if all Qazis can be asked to include this condition at the time of marriage.
"Is it possible that Muslim women are given an option to say 'no' to triple talaq at the time of execution of nikahnama?" asked the bench also comprising Justices Kurian Joseph, R F Nariman, U U Lalit and Abdul Nazeer.
While seeking response from Sibal the bench said, "Don't infer anything from our side."
Wednesday is the fifth day of the hearing on a clutch of petitions challenging triple talaq, polygamy and nikah halala which is going on before a bench comprising members of different religious communities including Sikh, Christian, Parsi, Hindu and Muslim.
On Tuesday, the law board had equated the issue of triple talaq with the belief that Lord Rama was born in Ayodhya, saying these were matters of faith and cannot be tested on grounds of constitutional morality.
Sibal had said the apex court should not decide or interfere in one's faith and belief.
To this, Justice Rohinton Fali Nariman, one of the five judges constituting the bench asked, if they should not hear the matter at all.
"Yes, you should not hear," replied Sibal.
Earlier, Sibal asked the top court as to how a 1400-year-old practice be branded 'unconstitutional'.
"Triple talaq is going on since 1400 years, how can you say it is unconstitutional?" Sibal asked the apex court.
With inputs from PTI