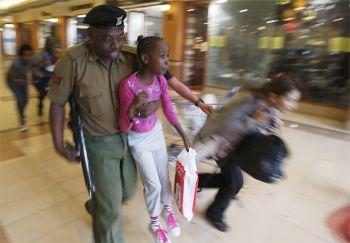 Life took a cruel turn for the family of V N Sudarshan when he was killed in the ghastly attack by the jihadis in the ongoing Nairobi mall terror strike.
Sudarshan, who was in his sixties, was in the middle of his 15-day business trip to the Kenyan capital.
A resident of Bidadi, about 40 kilometres from Bangalore, Sudarshan was into export/import business. He had left for Nairobi a week ago and it was his business that led him to Westgate Shopping Centre on the fateful day.
Sudarshan is unmarried and is survived by his brother Ram Prasad, who stays in Bidadi. His brother has refused to comment on the incident and is awaiting the return of his brother's body. The Indian embassy in Nairobi is in touch with him and has assured of all help.
Some neighbours of Sudarshan expressed shock while speaking to Rediff.com.
"He was a quiet man and went about his work without troubling anyone. He was very close to his brother", said Shyam Rao, an acquaintance of the family.
Image: A soldier carries a child to safety as armed police hunt gunmen who went on a shooting spree at Westgate shopping centre in Nairobi
Photographs: Goran Tomasevic/Reuters