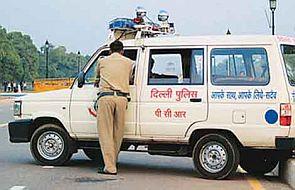 A senior bureaucrat and his wife were found dead under mysterious circumstances at their house in Hazrat Nizamuddin area of south-east Delhi on Friday evening.
K Vijay Kumar (57), who was working as cost advisor with the food ministry, lived in his house at Kaka Nagar area along with his wife Sita (51), a manager with a bank in South Delhi, and her daughter Varanya (22), according to police.
"The incident came to light at around 4:15 pm when Kumar's daughter reached the house and found the main door of the house, latched from inside, was not opened by anybody even after she rang the bell several times.
"When she tried to peep into one of the room through the window, he saw his father lying in a pool of blood after which she raised an alarm," said a senior police official.
A PCR call was made at around 4:30 pm after which a police team with senior officials reached the spot and entered the house after breaking open the main door.

"Kumar was found lying in a pool of blood on the floor of a room while his wife was found hanging using her dupatta from the ventilator of an adjacent room. A deep cut was found on Kumar's neck which indicated that his throat was slit," the official said.
After the initial investigation, the bodies were sent to a nearby government run hospital for its post mortem after forensic teams picked evidences.
Police have registered a case of murder and three teams are investigating it from all possible angles. No signs of forced entry in the house were found, police said