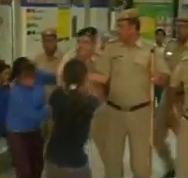 The brother of the 17-year-old girl, who was slapped by an assistant commissioner of Delhi police while protesting against the rape of a minor in the capital, on Friday submitted a petition to the home ministry seeking dismissal of the suspended officer.
Narendra Rawat, brother of the teenage girl, and Kapil Mishra, who started an online petition for the dismissal of the ACP, claimed that their petition has secured the signatures of 31,000 people.
"I had started this online petition as an outraged citizen and a father of a one-and-a-half-year-old girl. So far, it has been signed by more than 31,000 people. We had come to meet the home minister to submit the petition to him but nobody met us. We were told to submit our documents and collect a receipt of the same. It is sad that nobody bothered to meet us and give us a patient hearing," Mishra told reporters.
Rawat said his sister was unable to submit the petition as she had to appear for an examination.
"She not only wants justice for herself, but also wants that all the policemen who mishandled the five-year-old girl's rape be sacked," Rawat said.
On April 19, ACP B S Ahlawat had slapped the girl at least four times inside the Swami Dayanand Hospital, when she and others were protesting against the brutal rape of the minor girl in east Delhi.
The Delhi Police had suspended Ahlawat on the same day.