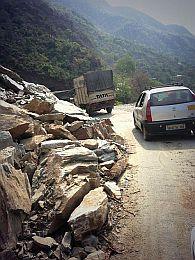 Assessing the unprecedented destruction at rain-ravaged Uttarakhand, including 110 major landslides in small stretches, the Border Roads Organisation has taken a massive road rehabilitation programme in the state, pressing into service about 4,000 men.
"The extent of damages is unprecedented. As per assessment made, a total of about 13 km length of roads at 100 places has been breached. Major slides have occurred at 110 places and nine bridges have either been washed away or damaged," an official said quoting a report.
A massive road rehabilitation programme has been taken up by BRO in the entire Uttarakhand area where it has pressed into service more than 90 excavators and bulldozers, as per information.
BRO has also suffered huge losses on these roads and many of its vehicles and machinery have been washed away.

The official said about 4,000 BRO personnel and workers are making efforts to restore connectivity, working day and night to speed up clearance work.
When contacted, Commander, 21 BRTF, BRO, Col N M Chandarana told PTI that situation was very grave and at one place an entire two-and-a-half km stretch on Badrinath to Joshimath route was washed away.
He said efforts were being made to restore connectivity on war-footing and 350 BRO men alongwith 1,200 workers were making all efforts to restore connectivity.
Meanwhile, as per the report from the area, road up to Uttarkashi is open for all vehicular traffic on Rishikesh-Dharasu-Gangotri, while beyond Uttarkashi there are major breaches in roads at many locations.
Road clearance work has also started from Gangotri side and major part of road between Gangotri & Harshil has been opened for light vehicle or pedestrian traffic, the official said quoting the report.
Efforts are on to open the road between Uttarkashi and Harshil which has suffered major damages, he added.
About Rishikesh-Joshimath-Badrinath-Mana road, he said the stretch has been opened up to km 496 (Govind ghat) and there are major breaches beyond Govindghat.
"Fifty metre bridge at Lambagarh has been washed away. Efforts are on to link the road from both Govindghat and Badrinath sides. Efforts are under way to make a foot track bypassing breach area for speedy evacuation of stranded passengers from Badrinath and Hemkund Saheb area," he added.
Terming the Rudraprayag-Gaurikund Road as the worst affected road in Uttarakhand, he said presently the stretch from Rudraprayag side has been cleared upto 7 km while efforts are underway to clear the road beyond the stretch till 35 km.

About the bridges, the report said Songanga bridge at km 70.30 has been washed away while the other at 35.60 (Rawanganga) was also damaged.
As far as Tanakpur-Pithoraghat-Tawaghat-Ghatiabagarh road is concerned, the stretch up to Pithoragarh is clear for all traffic. Beyond Pithoragarh, the road is through up to 80 km and after that the four-km stretch has been breached at more than 30 locations.
Two bridges have also been damaged before Tawaghat while one has been washed away. Massive operation of road clearance has been undertaken, including efforts to establish foot-tract connectivity.
The detailed reports suggest that Jauljibi-Munsiyari road is closed due to major breaches at about 10 locations and foot-track connectivity has been established in most of the road portions for transportation of ration and general public.
The official said many other lateral roads in charge of BRO have suffered extensive damages and are still closed.
It may be recalled that BRO has been working on more than 2,000 road projects along India's borders.
The organisation has constructed more than 50,000 km of roads in far-flung areas of 16 states, including new constructions and widening of single-lane highways. Besides, it has built 99 major bridges in five decades of existence. BRO has successfully constructed and maintained roads in the most inhospitable terrains and altitudes.