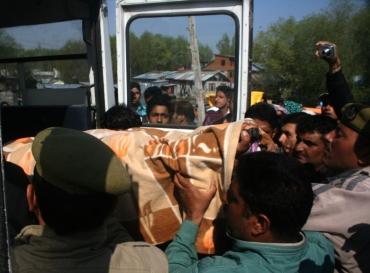 A British tourist was murdered on Friday night ,allegedly by a tourist from Netherlands, in a houseboat on Dal Lake in Srinagar, were both of them were staying.
A senior police officer said that the Dutch tourist David Richard, who tried to flee the valley, was nabbed early on Saturday from Qazigund in south Kashmir, 80 km from Srinagar, on the Srinagar-Jammu National Highway.
Police suspect the 24-year old British tourist may have been raped by the accused before he murdered her and escaped the crime scene.
The accused had broken down the door of the room in the houseboat where the British girl was sleeping, said the police.
As soon as the police were informed about the murder of the British tourist, authorities sounded a valley-wide alert, which led to the arrest of Richard.
The body of the British tourist has been sent for an autopsy to determine whether she was raped by the accused.
A case has been registered by the police and investigations are going on.
Image: Police take the body of the British tourist to the hospital | Photograph: Umar Ganie