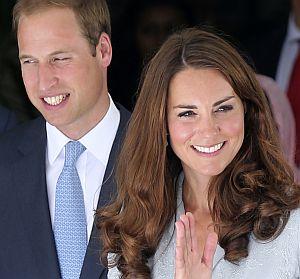 Britain's Prince William and his wife Kate Middleton, the Duchess of Cambridge, are expecting their first child, St James' Palace announced on Monday.
The child will be third in line to the throne after grandfather Prince Charles and dad Will.
A spokesman said the duchess, who is thought to be less than 12 weeks pregnant, has been admitted to a London hospital with acute morning sickness and is likely to stay for several days, BBC reported.
"He or she will one day be head of the armed forces, supreme governor of the Church of England and subsequently head of state of 16 Commonwealth countries," the report added.
Catherine and William, who are both 30, were married at Westminster Abbey in April 2011.
Royal officials said William was with his wife at the King Edward VII hospital.
Image: Prince William and Catherine wave to staff as they leave Hospis Malaysia in Kuala Lumpur in September, 2012
Photograph: Bazuki Muhammad/Reuters