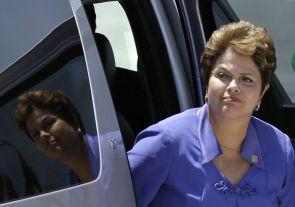 The state visit of Brazilian President Dilma Rousseff to the US next month has been postponed following the concerns being raised by Brazil with regard to the secretive surveillance programme of NSA as revealed by classified documents leaked by Edward Snowden.
The announcement of postponement of the visit was made by White House Press Secretary Jay Carney after US President Barack Obama had a telephonic conversation with Rousseff. The visit was scheduled on October 23.
A mutually convenient date for the visit would be announced later, which is most probably going to be after the review report of the intelligence activities of the US which was ordered by Obama in the immediate aftermath of the leak of Snowden documents.
"The US and Brazil enjoy a strategic partnership rooted in shared democratic values and in the desire to advance broad-based economic growth and job creation. President Obama's invitation to President Rousseff for the first State Visit of his second term is a reflection of the importance he places on this growing global partnership and the close bonds between the American and Brazilian people," Carney said.
"The President has said that he understands and regrets the concerns disclosures of alleged US intelligence activities have generated in Brazil and made clear that he is committed to working together with President Rousseff and her government in diplomatic channels to move beyond this issue as a source of tension in our bilateral relationship," he said.
As Obama previously stated, he has directed a broad review of US intelligence posture, but the process will take several months to complete, he added.
"Obama and Rousseff both look forward to the State Visit, which will celebrate our broad relationship and should not be overshadowed by a single bilateral issue, no matter how important or challenging the issue may be," he said.
"For this reason, the presidents have agreed to postpone President Rousseff's State Visit to Washington scheduled for October 23," Carney said.
Carney said the two leaders spoke by telephone on Monday night to follow-up on their meeting in St Petersburg.
"President Obama looks forward to welcoming President Rousseff to Washington at a date to be mutually agreed. Other important cooperation mechanisms, including the presidential dialogues on political, economic, energy, and defense cooperation, will continue," he said.