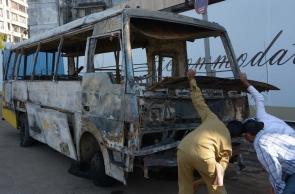 Driver of a mini-bus showed presence of mind and rescued 18 schoolchildren as the vehicle caught fire in suburban Andheri on Saturday.
Baba Irfan Patel and locals rescued the children, hailing from Millat Nagar area, from the school bus. The CNG bus burnt down in 10 minutes, the police said.
The D N Nagar police have registered a case and are investigating the cause of the fire.
Photographer: Sahil Salvi