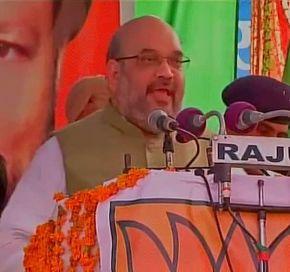 The central government will resolve the issue of war refugees in Jammu-Kashmir in a time bound and phased manner, Bharatiya Janata Party President Amit Shah said on Monday.
"I assure the refugees of 1947, 1965 and 1971 that the central government will act on their issues and demands in a time bound and phased manner immediately," he said at a school in the border area during his maiden visit to the state after taking charge as BJP chief.
Striking an emotional chord with the people living in the border hamlets, Shah said the party and the country understands the pain of the people who have to suffer due to Pakistani firing and assured them of all assistance. "We feel the pain of border people affected from Pakistani firing. I assure you that the people of the country and BJP are with you. I bow my head before you for your patriotism and remaining firm in your border hamlets despite Pakistan firing," he said.
Shah said Union Home Minister Rajnath Singh has directed Indian troops to give a befitting reply to firing by Pakistan. "We will not tolerate it," he added.
"We know your problems and issues and we have an emotional attachment with the refugees of J&K," Shah added.
The BJP chief, who was accompanied by Minister of State Jitendra Singh and other party leaders like J P Nadda and Ram Madhav, claimed that BJP will form the next government in Jammu and Kashmir and the party will get a majority in the assembly as it got in Lok Sabha.
The border migrants of R S Pura sector spoke to the leaders about the problems faced by them due to incessant firing from across the border. The migrants sought rehabilitation to safer places and demanded five marla plots for each migrant family.
Image: BJP president Amit Shah addresses villagers living at the border. Photograph: ANI/Twitter