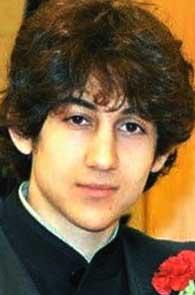 The lone-surviving Boston bombings suspect has claimed responsibility for the deadly terror attack in a note written on the wall of the boat he hid in, saying it was retribution for United States' wars in Afghanistan and Iraq.
Boston bombings suspect Dzhokhar Tsarnaev, 19, left a note in the boat he hid during a massive manhunt for the April 15 attack on the Boston Marathon that killed three people and wounded over 250 others, CBS News reported on Thursday.
The US authorities arrested Chechen-origin Dzhokhar on charges of using weapons of mass destruction, while his elder brother Tamerlan, 26, was shot dead by police.
CBS News quoted sources as saying that Dzhokhar wrote the note in the boat he was hiding in as police pursued him, and as he bled from gunshot wounds sustained in an earlier shootout between police and his older brother, Tamerlan.
The note, scrawled with a pen on the interior wall of the cabin, said the bombings were retribution for US military action in Afghanistan and Iraq, and called the Boston victims collateral damage in the same way Muslims have been in the American-led wars.
"When you attack one Muslim, you attack all Muslims," the note added.
Dzhokar said he didn't mourn older brother Tamerlan, the other suspect in the bombings, writing that by that point, Tamerlan was a martyr in paradise -- and that he expected to join him there.
The note will be a significant piece of evidence in any Dzhokar trial -- it is "certainly admissible," and paints a clear picture of the brothers' motive, "consistent with what he told investigators while he was in custody," the report said.
While Dzhokar admitted to many of the same details to authorities, those admissions came "during the time he was interrogated but before he was given his Miranda warning."
The note gives prosecutors supporting and clearly admissible evidence.
The Miranda rights is a warning given by police in the US to criminal suspects in their custody before they are interrogated to preserve the admissibility of their statements against them in criminal proceedings.