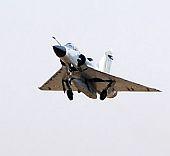 A bomb from an Indian Air Force fighter aircraft fell on a vacant land 15 km off the Pokhran firing ranges near Jaisalmer and exploded, leaving behind a huge crater and causing panic among residents of the area.
"A bomb fell off the IAF fighter jet near the Pokhran firing ranges during a training sortie late Monday night," air force officials said in New Delhi on Tuesday.
No loss of civilian property or life was reported in the incident. The bomb fell at a location near a village Mohangarh, on the fringes of Pokhran firing ranges.
The IAF has ordered a court of inquiry to probe the incident.
An IAF pilot was flying the Mirage-2000 fighter aircraft during his weapons training when the incident occurred.
"Pilots go to the Pokhran ranges for weapons exercise regularly. Such incidents have occurred in the past too," IAF officials said.