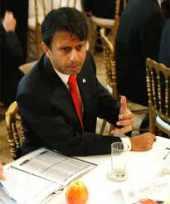 Indian-American Louisiana Governor Bobby Jindal has escaped unhurt after a large rental truck sideswiped his SUV while he was returning home from his son's football game in Baton Rouge.
The crash happened on Nicholson Drive near Oklahoma Street on Sunday evening, according to the Louisiana state police.
A "box" rental truck allegedly made an illegal U-turn in front of two unmarked state police vehicles, Captain Doug Cain said.
Jindal was inside the first SUV, which was sideswiped by the truck, according to Cain. The second SUV then hit a utility pole, CBS News affiliate WAFB reported.
The trooper in the second SUV received minor injuries, Cain added. There were no other injuries in the crash. Investigators say the driver of the truck was cited for improper turn.
"The governor was involved in a traffic accident on the way home from his son's soccer game after a truck made an illegal u-turn in front of his vehicle," the governor's office said in a statement.
"The governor did not sustain any injuries, and he is thankful for the work of the Louisiana state police who keep him and his family safe every day," the statement said.
Jindal, 41, the first-ever Indian American governor of a United States state, has been a vocal critic of US President Barack Obama and is seen as a potential 2016 presidential candidate from the Republican party.