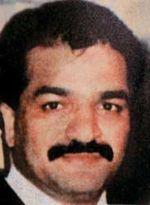 The serial blasts of March 1993 were originally planned to take place in April that year and it was to be a countrywide bomb attack but the date was advance on instructions of absconding accused Tiger Memon who suspected the police had got a whiff of the terror plot, an officer involved in solving the case said.
Also, according to the original plan, the bomb blasts were to coincide with Shiv Jayanti, the birth anniversary of Maratha warrior Shivaji, said Rakesh Maria, Maharashtra ATS chief. Maria, then a Deputy Commissioner of Police posted in Mumbai, had played a key role in cracking the case.
"The plan was to trigger bomb blasts in Delhi, Mumbai, Kolkata, Chennai and other parts of the country in April and not in March. But Tiger Memon advanced it (and only Mumbai was targeted)," he said.
Another police officer said Memon changed the date as he suspected Gul Noor Mohammed Khan, one of his aides, had leaked information about the plot to police.
"Khan had told his mother there would be blasts in the country very soon. His mother warned Khan not to get involved in such activities. Scared, Khan got himself arrested in an assault case," the officer added.
Fearing Khan might have let out the information to police, Memon instructed his men to prepare for blasts on March 12. Accordingly, explosions targeting nearly a dozen places in the country's financial nerve centre were set off on that day, he said.
According to Maria, Memon had received Rs 10 lakh and 12 lakh through hawala (illegal channel of transmitting money) from the Gulf on March 10 and 11 respectively. Also, he had received USD 60,771 three months prior to the blasts.
The funds were subsequently used by Memon for arranging vehicles, explosives, training his men to handle explosives and firing, among others, he said.
The serial blasts had claimed 257 lives and left 713 injured.