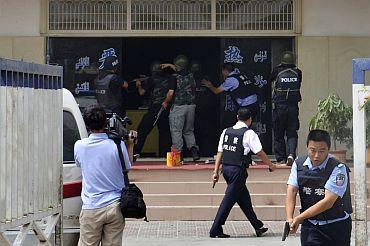 About 50 people were injured on Wednesday when a powerful blast struck a railway station in Urumqi, the capital of China's Muslim-majority Xinjiang province, as President Xi Jinping wrapped up his first-ever visit to the troubled region during which he vowed to fight terrorism.
The explosion took place on Wednesday evening at the exit of the south railway station of Urumqi. Ambulances and police cars rushed to the scene, state-run Xinhua news agency reported.
The blast was centred around some luggage left on the ground between the station exit and a public bus stop, it said.
About 50 people were injured by the explosion, The Beijing News said, citing local police. A local resident working at a nearby hostel told the South China Morning Post that the blast took place at around 7 pm outside the exit of the Urumqi south railway station after a train from Chengdu arrived.
"The blast was quite powerful and there were possibly deaths. The police have cordoned off the railway station and the railway services are likely to have been suspended," he said over the phone, requesting anonymity.
Pictures on Weibo, the Chinese Twitter, showed blood on suitcases and debris on the ground in front of the station. One picture showed what appeared to be a small blast area near a police post, though it was unclear if there were any casualties in the photograph.
The explosion came just as President Xi wrapped up a tour of insurgency-hit Xinjiang province in which he spoke of plans to get tough on fighting terrorism. People in the square in front of the railway station and nearby areas had been evacuated, it said, adding that police also evacuated people in surrounding areas.
The police have cordoned off all entrances to the square of the station. Armed police have been deployed in the square, the Xinhua report said. It was not immediately clear if it was a terrorist attack, but it certainly provokes memories of the killing spree at a crowded station in the southwestern city of Kunming in early March, a commentary in Xinhua said.
The resource-rich Xinjiang has witnessed a spurt in attacks by Islamic militants in recent years as province experienced ethnic tensions between native Uygur Muslims and Han Chinese settlers from other provinces.
Image for representation only.