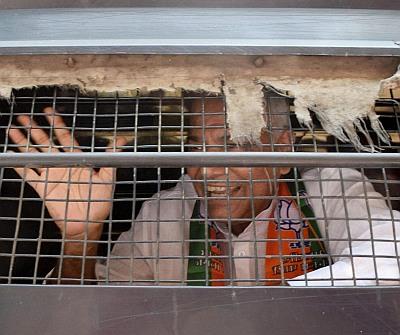 The protest over electricity crisis by the Bharatiya Janata Party in Hazaribagh, Jharkhand entered the third day even as senior party leader Yashwant Sinha and others did not apply for bail on Wednesday after they were arrested and remanded to judicial custody in connection with alleged assault of an electricity board official.
Continuing the stir in the campus of the Jharkhand State Electricity Board's Hazaribagh branch office in the town, BJP workers locked the office in the morning to prevent officials and employees from discharging their duties, the police said.
The police broke open the lock in the presence of Hazaribagh (Sadar) Block Development Officer Pyarelal, they said.
Another group of party workers put up blockades on Zilla Parishad road and Barhi road, disrupting traffic for about an hour on National Highway 2 and National Highway 3, they said. "We will continue our agitation till our demand is met," a BJP worker said.
Meanwhile, former external affairs minister Yashwant Sinha and his followers did not apply for bail following their arrest and subsequent judicial remand for the alleged assault of the JSEB's Hazaribagh unit General Manager Dhanesh Jha.
Jha had filed an FIR against Sinha and others, accusing them of tying him up during a demonstration by the BJP's district unit on Monday leading to their arrest.
After Sinha and others refused to take bail, the Chief Judicial Magistrate R B Pal had remanded them to 14-days judicial custody on Tuesday.

Image: Senior BJP leader Yashwant Sinha being take away in a police vehicle after was remanded in judicial custody by a local court in Hazaribagh on Tuesday as they refuse to seek bail in a case of alleged assault of a JSBE official. Photograph: PTI