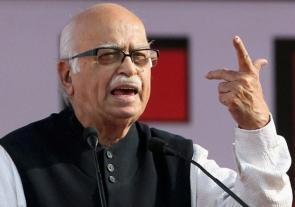 Senior Bharatiya Janata Party leader L K Advani on Saturday said the political atmosphere in the country is ideal for the party to get "record breaking results" with the Congress-led government failing to tackle corruption and price rise, creating a favourable condition for the main Opposition.
At the BJP scheduled caste front national executive in New Delhi, he said the political situation prevailing in the country was never more favourable for the BJP in the past. "Looking at the confidence of the SC morcha workers, I am sure that we will achieve record breaking results in the Lok Sabha elections," Advani said.
Referring to the opinion polls published in some newspapers on Saturday, he said usually such polls are "prejudiced" against BJP but this time, even these surveys show that the party will win the elections. Predicting early polls, the BJP leader said the Lok Sabha and assembly polls due this year would be over by April 2014. "We have not experienced so many elections -- in six- seven states and the Lok Sabha elections -- in such a short span," he said.
"Keeping the weather conditions and other factors in mind, the Election Commission will also want early elections, whether the government wants it or not. The government may also want early polls. But whenever the elections are (to be) held, you should start preparations without speculating about the time," Advani said.
Advani asked the party cadre to take achievements of the BJP governments in various states to people to improve the party's electoral prospects. He said the Congress has ensured that corruption, price rise, need for people-friendly governance and honest administration would be the issues in the forthcoming Lok Sabha elections.
Taking a jibe at Congress, Advani said, "The amount of effort that the Congress has made in the last three years to make BJP win the next Lok Sabha elections, nobody else has." However, Advani made no mention of Gujarat Chief Minister Narendra Modi, the rising star of the BJP, whom many party workers see as their biggest vote catcher and a prime ministerial probable.
Advani, whose ties with the RSS had reportedly strained after Modi's elevation in the party, praised the Sangh and said its policy of not discriminating on the basis of caste had helped them win the support of Dalit voters. He said, "The RSS never accepted caste and believed that all sections of society are equal. When Mahatma Gandhi visited the RSS shakha (meeting) at Wardha he was surprised to see people of different castes sitting together and having a meal." He maintained that religious conversions from the Hindu fold had taken place due to caste atrocities.
"The RSS view of not discriminating against people on the basis of caste has played an immense role in the political growth of our party," Advani said, adding that this attitude of non-discrimination had brought Dalits closer to the BJP.