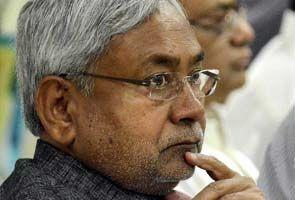 Amidst reports of Congress' confabulations with the Rashtriya Janata Dal for a secular alliance in Bihar in the 2014 Lok Sabha polls, the Bharatiya Janata Party on Monday took a dig at Chief Minister Nitish Kumar for the Congress preferring Lalu Prasad over him and said such an 'opportunistic' alliance was not a cause of worry for it.
"Now the Congress has kicked on their (Janata Dal-United) back and is aligning with Lalu. History will not forgive Nitish Kumar for betraying mandate and breaking (ties) with the BJP," BJP leader Sushil Kumar Modi tweeted.
"For the last 6 months Nitish Kumar was courting the Congress, even going to Cong HQ to see off FM (P Chidambaram), praising Shahzada, taking certificate of secularism from the PM," he said taking a dig at Kumar.
Though official confirmation is awaited, there have been reports of confabulations between the Congress and RJD to firm up ties for the 2014 parliamentary elections. The process is all set to get momentum as soon as RJD President Lalu Prasad comes out of AIIMS, Delhi, where he is undergoing treatment.
After the separation between the BJP and JD-U in mid-June, the Congress was seen reaching out to Kumar. The Congress vote to the Kumar government and the United Progressive Alliance government's encouraging response to the demand for special category status for the state initially pointed to their warmth.
But Congress chief Sonia Gandhi's telephone to Prasad after he came out of Ranchi jail in a fodder scam case on bail, indicated efforts to forge a tie-up.
Asserting that the BJP is 'unimpressed' with the likely alliance between the Congress-RJD-LJP, senior party leader and Leader of Opposition in state Assembly Nand Kishore Yadav told PTI that there will be direct fight between the Congress and BJP in the coming Lok Sabha elections. "The Congress has lost the people's support as it is neck deep in corruption, while the BJP has a clear cut advantage."
"Both the JD-U, which is enjoying the Congress vote in the assembly and RJD, which is forging an alliance with that party (Congress) will have to pay dearly for their relation with it," he said.
Bihar BJP President Mangal Pandey said the Congress seemed interested in repeating its action in Uttar Pradesh, where it has support of both Mulayam Singh Yadav and Mayawati, in Bihar. "But Bihar is not Uttar Pradesh and its people have seen the true face of the Congress," he added.
Meanwhile, former BJP president Nitin Gadkari could not come here to interact with party workers due to inclement weather. Due to low visibility, the ATS did not give permission to Gadkari to land at the Patna Airport and hence he had to cancel the programme, BJP Vice President Sanjay Mayukh said.
Gadkari was scheduled to address BJP office bearers and workers on coming elections and was to attend a function at Hajipur in Vaishali district during the day.