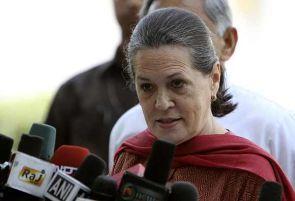 Hitting out at Bharatiya Janata Party for being "soft on corruption by its workers", Congress President Sonia Gandhi on Thursday stressed on her party's commitment to deal strongly with the issue of graft.
"It is well-known that Congress deals very strongly with those who indulge in corruption, but the BJP does not do any such thing," Gandhi said.
She was addressing an election rally in Jhabua district of poll-bound Madhya Pradesh.
Her statement comes at a time when Congress is facing allegations of several scams, rising inflation and failure of development front.
Gandhi said that those involved in corruption in her party have even been sent to jail, but the BJP always protects its corrupt men.
She said during the last 10 years, the Centre has granted funds worth several crores to the BJP-ruled Madhya Pradesh.
"Despite all this money, Madhya Pradesh continued to be in a poor state with rampant malnutrition, suicides by farmers and non-availability of seeds and fertilisers," the Congress president said in her speech lasting a little over 12 minutes.
The Central government had sent the money to the state so that it can be utilised for development works, but this has not happened, Gandhi said.
"The Centre sends money to states for the welfare of the people and not to fill the pockets of only a few persons," she said.