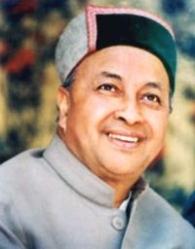 The Bharatiya Janata Party has submitted a "chargesheet" to President Pranab Mukherjee demanding the ouster of Himachal Pradesh Chief Minister Virbhadra Singh over graft allegations.
The BJP had submitted a 28-page "chargesheet" against Singh to the governor on December 25.
Meanwhile, Leader of Opposition in Vidhan Sabha and former chief minister P K Dhumal has lashed out at the state government for neglecting development work and unleashing political vendetta against BJP workers and their family members.
Accusing the government of failing to implement poll promises, Dhumal claimed the Congress government has betrayed the people during its one year regime.
Speaking to reporters at Nahan, Dhumal said the state government has failed to even recover the Rs 4,250 crore awarded by the Supreme Court on account of the state's share in power projects under the Bhakra Beas Management Board.
"We demand a CBI inquiry into the allegations but the Congress wants that matter be referred to the Lokayukta so that the Congress can buy more time for manipulations," Dhumal said, adding the BJP would not rest till an enquiry is ordered.
He accused the state government of pursuing anti-people policies like implementing 30 per cent hike in bus fares, raising the prices of food grains and cooking oil distributed through the Public Distribution System and reducing the quantity of ration under PDS.