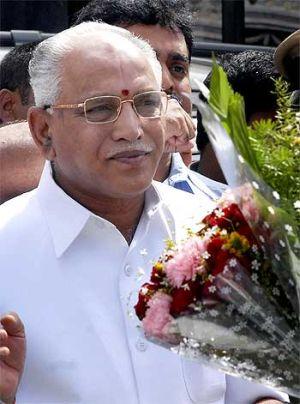 The Karnataka state executive meeting of the Bharatiya Janata Party held on Friday in Bangalore spent a considerable amount of time discussing the election strategy, and more importantly, the return of Karnataka Janata Paksha chief B S Yeddyurappa into the party.
Although BJP president Rajnath Singh did not spell out clearly the strategy regarding the former chief minister, senior leader Ananth Kumar remarked, "We are trying to bring our brothers back so that we can have a Congress-mukt (free) Bharat".
Singh told mediapersons that the issue of Yeddyurappa is being discussed and the announcement would be made after a final decision is taken.
Ananth Kumar, however, said that they were keen on implementing Narendra Modi's dream of a Congress-mukt Bharat, and for this purpose "some of our brothers who left the BJP last year will be brought back".
"Expect good news on the New Year", he added.
Meanwhile, Rajnath Singh also said that they were expecting 273 seats in the upcoming Lok Sabha elections.
"In Rajasthan we assessed 110 seats but ended up winning over 160. We will surpass expectations in 2014 too," Singh said.
On the commission of inquiry set up by the Centre to probe the Gujarat snooping incident, Singh said this is an attack on the federal structure.
Image: Former Karnataka Chief Minister B S Yeddyurappa