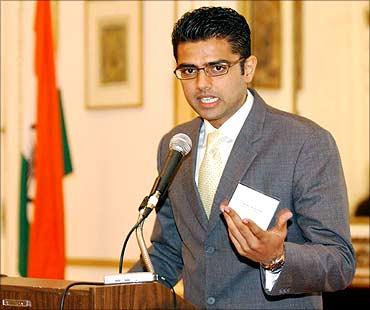 Accusing the Bharatiya Janata Party of indulging in "shout and scream" practices to disrupt Parliament, Union Minister Sachin Pilot has said government is more than willing to "walk the half way" to debate issues raised by the opposition.
As Parliament continues to witness frequent disruptions in the current session and key bills are getting further delayed, the minister said it is the BJP which is mainly responsible for such a sad state of affairs.
"Primarily it (disruptions) is because of the non-cooperation of the BJP. The main Opposition party, to my mind, is the most responsible for disruptions," Corporate Affairs Minister Sachin Pilot told PTI in an interview.
"I think it is sad .... It is very sad and unbecoming of politicians," he said. "We will be more than happy to walk the half way on any issue the opposition wants to discuss, but you can't shout and scream and not let Parliament function," Pilot said.
Even though landmark legislations such as Food Security Bill and Land Acquisition Bill have been passed by the Lok Sabha in the current session, which began on August 5, many others are still pending. These include bills related to reforms in the insurance and pension sectors.
On Friday, Prime Minister Manmohan Singh also squarely blamed the BJP for the current economic woes, accusing it of stalling crucial reforms bills by disruption of Parliament and hurting investor sentiment.
In recent days, Parliament had witnessed acrimonious scenes between ruling and Opposition members, on various issues including coal scam and Telangana matter. During the current session, many Andhra Pradesh members of Parliament, including those from the Congress, have forced adjournments on the proposal to create a separate Telangana region.
"The Congress MPs from Andhara Pradesh have also made their objections... They have disrupted (the Houses) a few times, but it is not right to say that it is only because of the Congress MPs," Pilot said.
The minister emphasised that debates must happen in Parliament. "Ultimately, people watching Parliament stop differentiating on which side is the MP sitting on," he noted.
The minister said he wondered whether activities that help the companies derive commercial profits can in "letter and spirit" be called CSR. "But, I am not the lord and master of the CSR committee" and it is they who would take the final call," Pilot said.
"If you are devastating the environment, not giving opportunities to communities in making profits, and then you give 2 per cent thinking that you are doing great benefit to the country and the economy, then it is not the right (way) to look at it," he added.
With regard to demands from various quarters that CSR activities should be given tax benefits, Pilot said that he would be open to such an idea but the final decision rests with the finance ministry.
"I would be happy if the companies are able to get some taxation benefits out of it (CSR activities). I don't know what kind of structure it might evolve (into) and what might be the proposals that will come to the finance ministry. If companies are getting some benefits... I would be open to that idea," he said.