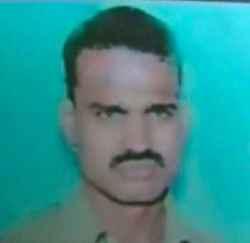 One person was taken into custody on Wednesday in connection with the murder of a Bharatiya Janata Party leader in Muzaffarnagar, police said.
Monu was taken into custody in Muzaffarnagar in connection with the murder of Om Vir Singh in Mirapur, IG (Law and Order) Amrendra Sengar said.
47-year-old Om Vir Singh 'Fauji', a retired army man who was the vice-president of BJP unit in Mirapur town, was out for a morning walk when two assailants fired multiple shots at him on Tuesday, according to police. Singh, who had a licensed revolver with him, too fired at the attackers but they snatched it from him.
In the preliminary inquiry, Monu has said that he along with his accomplice had gone to Mirapur with the aim of killing someone else, Sengar said.
But on seeing Om Vir with a firearm, they thought that their plan had been leaked and so shot at him, Sengar said.
Monu claims that he was also injured in the shooting and was taken to hospital for treatment by his relatives, Sengar said, adding that his claims were being verified and police would come to a conclusion only after that.
Following Singh's killing, his family members and BJP workers had staged protests and blocked a road.