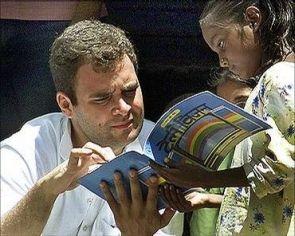 Congress Vice President Rahul Gandhi on Tuesday accused BJP of favouring the interests of businessmen and industrialists over those of the common man, saying the opposition believed in running the government for a select few.
"There is a fundamental difference between us (Congress and BJP). We say this country belongs to everybody; the poor, rich, businessmen, industrialists, workers... Their focus is on some select few. They will run government for some big people, industrialists," he said at a rally.
If you hear what BJP leaders say, you would hear them talk about airports, infrastructure, roads but not people not the poor, the Congress leader said.
"We say we must build roads, airports, rail lines... But we must help our poor people also so that they could too travel in airplane one day... That's why we have empowered you, given you rights," the Congress vice-president said.
Anybody irrespective of how weak he is, has a stake in the country and Congress believes in taking him along while developing it, he said.
Rahul presented his party as the only formation which was sincere about the lot of the poor and said it has given people the RTI Act so that they could ask the government any question.