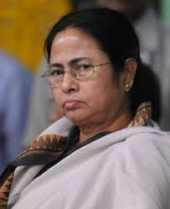 In the backdrop of Gujarat Chief Minister Narendra Modi's 'I'm a Hindu nationalist' remark, West Bengal Chief Minister Mamata Banerjee on Monday accused the Bharatiya Janata Party of dividing Hindus and Muslims.
"A bigger Hindu than Ramakrishna Paramamahamsa and Swami Vivekananda," she asked at a panchayat election rally in Bagnan in Howrah district without naming anyone.
"Hindus and Muslims are the flowers of same branch and we care for both," Banerjee said and alleged the BJP wanted to 'divide the Hindus and the Muslims' but the state government would not allow anyone to fomment riots.
Her remarks came close on the heels of Modi kicking up a political storm by saying he had done 'absolutely the right thing' during the 2002 Gujarat riots and describing himself as a 'Hindu nationalist'.
Banerjee accused the Communist Party of India-Marxist of using the BJP to split anti-Marxist votes in Bengal and asked the electorate to be careful in not wasting a single vote.