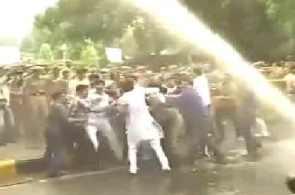 Bharatiya Janata Party youth activists, including women, and police clashed outside Railway Minister Pawan Kumar Bansal's residence in New Delhi on Monday during a protest demanding his resignation following the arrest of his nephew on the charge of accepting bribe to fix plum position in the railway board.
The police resorted to use of water canons and force to disperse scores of BJP's youth wing 'Yuva Morcha' activists, led by its national chief Anurag Thakur, who have gathered outside the 6 Ashoka Road residence of Bansal at around 6 pm.
Around 100 protesters were detained from the spot where a large number of police personnel were deployed. Bansal's residence is located opposite BJP's national headquarters at 11-Ashoka Road. The Ashoka Road leading to India Gate was blocked by the protesters, as they marched towards Bansal's residence.
Holding party flags and placards and shouting slogans against the United Progressive Alliance government and Bansal, the protesters broke two layers of barricades to reach the minister's residence where police used of water canons. "This government is a shameless one. The Congress chief and the prime minister have given licence to their ministers to loot the country. We are going to protest for the next one week," Thakur told reporters at the protest venue.
On Sunday, activists of BJP's student wing Akhil Bharatiya Vidyarthi Parishad protested outside Bansal's residences in Delhi and Chandigarh. Police used force to disperse protesting ABVP activists outside his house in Chandigarh and rounded two of them, while 10 were detained in Delhi.
Bansal is in the eye of a controversy after the arrest of his nephew Vijay Singhla for allegedly accepting a bribe for fixing an appointment in the railway board.

Image: TV grab of police using water cannons to disperse protestors outside Bansal's residence