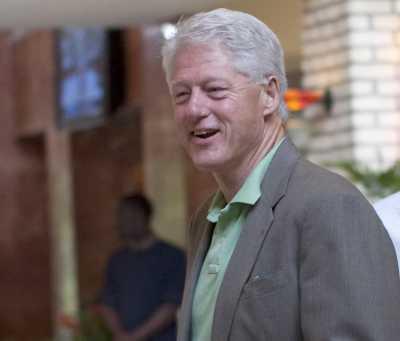 Former US President Bill Clinton is in North Korean capital Pyongyang to negotiate the release of two American television journalists who were sentenced to 12 years of hard labour for illegally entering North Korea.
According to The Independent and the Yonhap news agency, the Obama administration had been mulling for weeks whether to send a special envoy to North Korea.
The choice of Clinton will mark his first public mission on behalf of the Obama administration. His wife, Secretary of State Hillary Rodham Clinton, has been deeply involved in the journalists' case.
Soldiers detained journalists, Laura Ling, 32, and Euna Lee, 36, on March 17 near the North Korean border with China. In June, they were sentenced to 12 years in a North Korean prison camp for 'committing hostilities against the Korean nation and illegal entry'.
The incident has soured relations between North Korea and the United States, and has only worsened after Pyongyang tested a nuclear device in May and then launched a number of missiles.
The White House marshalled support at the United Nations for strict sanctions against Pyongyang, including a halt to all weapons sales and a crackdown on its financial ties.
But the administration has tried to keep its diplomatic campaign separate from this case, which American officials have portrayed as a humanitarian issue, appealing to North Korea to return the women to their families.
Before they were detained, Ling and Lee were on a reporting assignment from Current TV, a San Francisco-based media company co-founded by Al Gore, the former vice president.
They were researching a report about North Korean women sold through human traffickers and refugees who had fled the North to search for food in China.
The administration initially said the charges against the women were 'baseless'. But last month, Hillary Clinton said the United States was now seeking 'amnesty' for the women, signaling a readiness to acknowledge some degree of culpability in return for their freedom.


Text: ANI | Photograph: Eduardo Munoz/Reuters