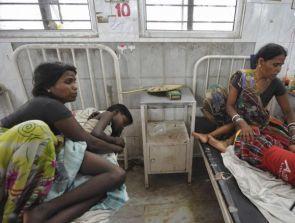 Around three lakh school teachers in Bihar have decided to boycott the mid-day meal scheme from July 25 following the death of 23 students after consuming the mid-day meal served in a school in Bihar's Saran district.
The Bihar State Primary Teachers' Association, which has around three lakh teachers including permanent and fixed pay teachers as its members, has unanimously decided to boycott the scheme from Thursday.
The association president Barajnandan Sharma said teachers have decided to disassociate themselves from implementation of the mid-day meal scheme.
Sharma said that the association repeatedly requested the government in writing to involve teachers in academic work only and employ some agency for the implementation of the MDM scheme. "Teachers should not be burdened with all kinds of non-academic work," Sharma said. He said that rampant corruption in the MDM scheme is giving teachers' a bad name.
In reference to the mid-day meal tragedy in Saran, Sharma said there may have been some mismanagement. Even human error cannot be ruled out. But putting the blame on teachers even before an inquiry is completed is surprising, he said.
In the wake of teachers' decision to boycott the MDM scheme, Bihar Education Minister P K Shahi said it was difficult to arrange an agency for implementation of the scheme in 72,000 schools across the state.
Last week, a Forensic Science Laboratory report confirmed the presence of a toxic insecticide in the cooking oil used for preparing food at the school.
The poisonous substance, organophosphorus, in oil samples collected from school was more than five times the quantity commercially available, the police said.