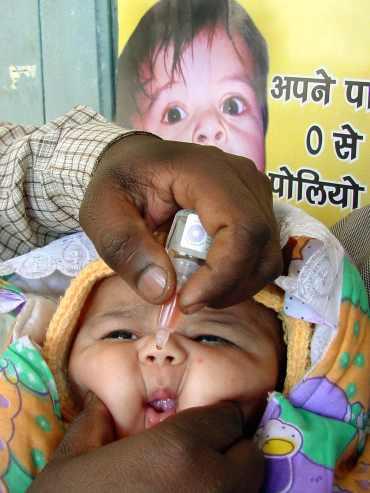 Bihar has made unprecedented progress in the polio eradication programme by successfully interrupting the virus. The state has remained polio-free for over two years, said state health secretary and executive director of Bihar state health society Sanjay Kumar.
"This has been due to exemplary commitment from the Bihar government supported by the development partners in the polio eradication programme," he said.
According to him, this extraordinary progress follows strategic and intense efforts for polio eradication focusing on the hard-to-reach areas along the Kosi River in central Bihar.
In order to remain polio-free, Bihar has continuously been focusing on the 41 polio high-risk blocks, which have persistently reported polio cases in the past. 
Strategic efforts have been in place to address the various risk factors that could lead to re-infection by the polio virus.
"Promoting sanitation and hygiene, routine immunisation, exclusive breastfeeding and diarrhoea management are some of the planned efforts to holistically address the polio-associated risk factors in the state," Kumar said.
"In addition to this, the programme continues to focus on the migrant and mobile populations working in brick kilns, construction sites workers and 
nomads, as most polio cases in the past have been reported among this group. With young children, especially the newborns at the highest risk of getting polio, vaccinators track and immunise them for at least eight times in a year," he said.
A total of 4,834,138 children have been vaccinated of the 17,964,847 children checked
up till date.
Till date the Bihar government has launched three routine immunisation weeks in the state. The aim is to immunise all left-out children less than two years of age and all pregnant women.
Kumar said that the immunisation week offered a unique opportunity to all missed and left-out children in the state to complete their immunisation and for the state to achieve full immunisation coverage of 85 per cent.
During the first two IRI weeks over a million shots of BCG, Hep-B, DPT and measles were given to children. In addition to this, around 5.4 lakh children were vaccinated against polio. Apart from these more than 1.6 lakh pregnant women in the state were also given tetanus shots.
World leaders appreciated the efforts being made by the government of Bihar for its political and financial commitments. This year Bihar has successfully conducted two national immunisation days and five supplementary immunisation days. Over 2 crore children under five years of age were immunised across Bihar by around 95,000 vaccinators.
The key to Bihar's remarkable progress in the fight against polio, according to Kumar, has been the strong political commitment of the state government at the highest level and the full support of all development partners. "There remains no room for complacency and therefore, we have been maintaining extensive surveillance and childhood immunity against the virus," he said.
Image: A baby is fed drops of polio vaccine at a health centre 

| Photograph: Raj Patidar/Reuters