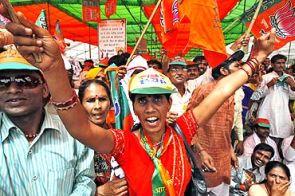 The owner of a sugar factory in Bihar has alleged that Bharatiya Janata Party MP Rama Devi demanded Rs 5 lakh from him for BJP prime ministerial candidate Narendra Modi's Hunkar rally in Patna on October 27.
Om Prakash Dhanuka, who owns Riga sugar factory, in a written complaint to the police, said that Rama Devi threatened to shut his factory down if he did not pay up.
"She called me last Saturday and then thrice on Tuesday demanding money for the rally. When I expressed my helplessness to pay such a huge amount, Devi threatened to close down my factory," Dhanuka said in his complaint to police.

He said the BJP MP invited him to meet her but he refused citing prior appointments. Rama Devi is the wife of Brij Bihari Prasad, a well-known bahubali (strongman), who was killed by rivals over a decade ago.

Rama Devi has denied the extortion charge.

Bihar's ruling Janata Dal-United spokesperson Neeraj Kumar said that this single incident exposed the true colours of the BJP and its prime ministerial candidate.