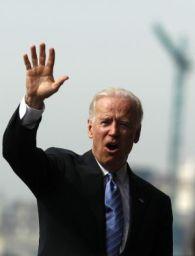 United States Vice President Joe Biden arrived in Beijing on Wednesday for meetings with top Chinese leaders amid an international spat over China's new air defence zone over the disputed islands in the East China Sea.
Biden arrived from Tokyo where he expressed US concern over the Chinese Air Defence Identification Zone after talks with Japanese leaders.
His two-day visit here was planned well before the present tensions surfaced over the ADIZ covering East China Sea islands disputed with Japan.
Biden is due to hold talks with Chinese President Xi Jinping and Premier Li Keqiang on a host of bilateral issues specially the ADIZ standoff.
Biden's visit is regarded significant he and Xi are said to enjoy a relatively close relationship.
China announced a new Air Defence Identification Zone last month, and said aircraft flying through the zone must follow its rules, including filing flight plans.
The ADIZ covers islands claimed and controlled by Japan, and a submerged rock claimed by South Korea.
The US, Japan and South Korea have rejected China's zone, and flown undeclared military aircraft through the ADIZ.
Ahead of Biden's visit Chinese military, which has pressed its air force planes into the zone Tuesday night, issued a stiff statement, saying that its military has "unwavering" will to enforce it.
"Some people doubt China's monitoring capabilities in the East China Sea ADIZ. The Chinese military's determination and volition to safeguard the security of national territory and territorial airspace are unwavering, and the military is fully capable of exercising effective control over it," a Chinese Defence Ministry statement said.
Biden, before leaving for China held talks with the Japanese Prime Minister Shinzo Abe in Tokyo and expressed US' deep concern over "attempt to unilaterally change the status quo in the East China Sea."
"This action has raised regional tensions and increased the risk of accidents and miscalculation. We are closely consulting with our allies on this matter here in Japan and in Korea which I will soon visit, later this week," he said.