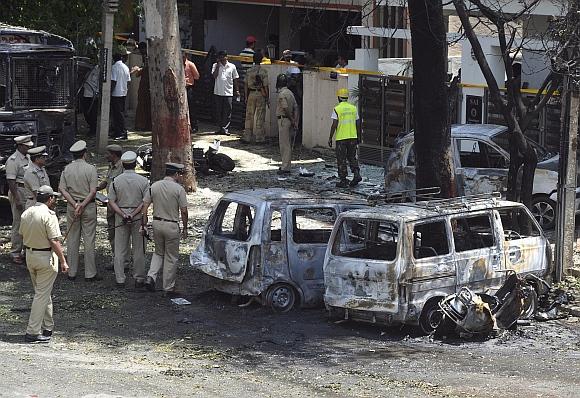 The first additional metropolitan magistrate in Bengaluru has acquitted three persons in connection with the blast case at the Bharatiya Janata Party office in Malleswaram. The court, while ordering the acquittal observed that the police had failed to file a charge-sheet against them in the stipulated 180-day period.
Ironically, one of the persons acquitted in this case was named as the primary accused when the first information report was filed. Those acquitted are Peer Mohideen, Saddam Hussain and Tenkasi Hanif who were earlier shown as accused 1, 7 and 14 as per the FIR filed after the blasts.
The prosecution told the court that a charge-sheet had not been filed against the three persons since there was no evidence found on them. The police had arrested the three persons on the basis of their association with a non-governmental organistaion in Coimbatore, which was run by one of the accused, Kichan Buhari. However, there was no evidence that suggested that they were linked with the accused during the course of the investigation.
The three persons were arrested when they had gone to Chennai for shopping for the wedding of Mohideen's sister. Two other persons too were picked up and later released for want of concrete evidence.
In all the police had named 15 persons in the initial report following this very high profile blast outside the BJP's office. So far, five persons have been let off in this case.