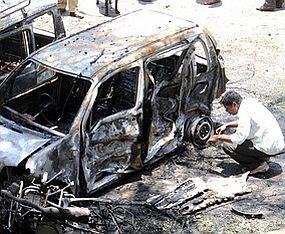 Days after a bomb blast near the ruling Bharatiya Janata Party's office in Bengaluru left 16 injured, three people have been arrested for their alleged involvement in the bombing.
The arrest of three persons in Tamil Nadu has led the police a step closer in solving the Bengaluru blast case.

Four persons had been detained a day after the blasts four persons for questioning.

Now, the police have announced the arrest of three persons -- two from Chennai and one from Madurai -- and it is alleged that they were the ones who facilitated the blasts.

The police are, however, still clueless about the outfit these men belong to.

The possibility of a new group planning and executing this attack is not being ruled out.

The three arrested persons are said to be bike dealers and it is alleged that they had facilitated the bomber with the motorcycle on which the bomb was planted.

The bike was sold by a person called Prakash to another man named Anwar, the police allege.

Anwar had not only purchased the bike and forged the documents, he also picked up a mobile SIM card under a fake name, investigators claim.